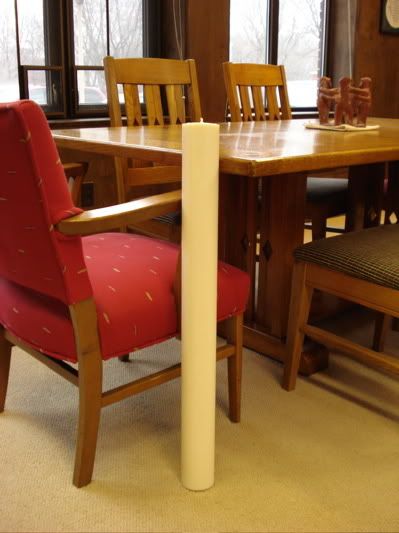 About one month ago, our pastor asked me if I could produce a 3x32"-ish soy pillar candle for the Easter vigil service this year. (...'what did you say?', I thought). "Well, I've never made one that tall before, but I'm sure I can do it" I said. (...'am I crazy?')
Plan A. After looking all over online, I did manage to find a couple of places that could special-order the mold- but it would take up to 15 working days, which put me with no time to pour the candle and possibly another in case the first did not burn as we needed. (...'okay, what the heck am I going to do now?')
Plan B. What is something that already exists as a tube? Stovepipe? Some sort of piping? GOT IT! PVC pipe!
So I hoofed it through Menards to the plumbing section and angels sang from above and birds twittered as I saw the perfect length of PVC waiting patiently for me. It was nice and smooth inside- smooth enough, anyway. (I figured out why I heard the birds so clearly- they live in the rafters of the building. Oh well, a jolt to reality never hurt anyone, right?)
Back home with the pipe and end piece, I ask my husband to cut off a length of 33 inches or so. Luckily, he did it with a smile, which was much better than I would have had on my face had I used a hacksaw on the sucker. With that done, it was a process of stopping up the end, wicking the mold after lubricating it with a dry silicone spray, and pouring the monster- and praying to Jesus that the candle turned out well.
I'm happy to say that a new Soyphisticated Candles record has been set. This bad boy weighs 10 pounds and is 32" long. My 13 year-old son gets to carry this candle in a procession.
He'd better not drop it.